Friend, Romans, cinephiles, lend me your ears. I am here not to praise FilmStruck but to bury it. This is not a popular opinion. The near consensus after the announced plans to shutter the movie streaming service, three weeks ago, was one of mourning. For good reason: It's an exclusive source for many foreign, classic and independent films, including The Criterion Collection.
And since the announcement I'm reminded of how sad I'll be if I never see many of its films, or see them again. Because that truly is the power of great films. You want to see them more than once.
Two examples: I was saddened to realize that most of the wonderfully innovative films by auteur Mike Leagh, including my favorite, Life Is Sweet, are not available for streaming elsewhere. Nor is the film that introduced me to writer / director Nichole Hoffcenner, Walking and Talking (and also to the performances of two fresh-faced unknowns whose names you may recognize, Catherine Keener and Liev Schreiber).
And — Oh no! — There goes my chance to rewatch the wonderful performances and grungy farce that made Withnail and I an art house masterpiece. I'm especially grateful to that film for introducing me to Richard E. Grant (left in the still, with a Trumpian-length necktie).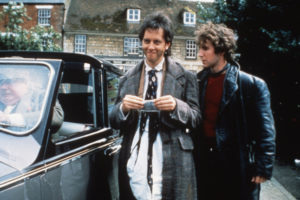 I'm tormented by these losses, and the FOMO of all the other classics in the archive. When I subscribed to FilmStruck (and I did subscribe, for a full year, twice), those films I listed were just three in my watchlist of over 100.
Can You Ever Forgive Me?
Now, I simply have to relish new performances by these actors, including a film I cannot wait to check out. It has Richard E. Grant doing what he does best — playing a slimy reprobate — and from what I've heard does it so well he'll assuredly be nominated for a long overdue Oscar nomination:
(And, Hooray! Nicole Holofcener co-wrote the film!)
So I'm grieving. But why haven't I joined the chorus of people chiding FilmStruck's owners for making a terrible decision? Because I think, although preventable, this service's money losses led to a logical decision.
Not that they're off the hook. Far from it.
I subscribed and cancelled twice to this service because it was terrible. Here's how I responded to an article in Slate about its demise:
.@JC_Scutts I had a year subscription: I wanted them to succeed and wanted their content. With no cable, my broadband isn't super fast. Although Netflix & Amazon Prime never did this, THEIR films buffered chronically and unwatchably. #filmSTUCK #TechFail https://t.co/fFQoeJgyYQ

— Jeff Larche (@TheLarch) October 30, 2018
I handed FilmStruck a stack of ones (well, virtually … over 100 of them), twice, yet I never got to stream a single film of theirs to conclusion.
Also, when I would return, to see if I could complete a film that was cut short due to the dreaded buffering "progress wheel," the film would start at the beginning.
It's simplistic to say that the owners of FilmStruck, Turner Classic Movies, are being mean. It's more accurate to say they have been, since the beginning, extremely negligent, which has led to the red ink they're now using as their excuse to close the project.
By refusing to upgrade their streaming service when they received my — and I'm sure many other — detailed emails explaining how I was cancelling because they needed to fix their technology, they proved themselves not so much art-haters as tech-newbies.
FilmStruck, for its retrograde user experience, deserves to be in the same ash heap of tech history as Blockbuster and MySpace. We can only hope the films can one day rise phoenix-like, so I can get my Withnail fix.