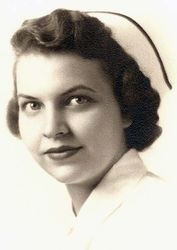 Tuesaday I got the news that no one wants to hear. My mother passed away.
She fought like few people I've ever met but it was time.
The many numbing hours of visitations, plus the funeral and mausoleum entombment (what a term!), were predictably horrible. But they coalesce now as among the most inspiring hours of my life. I was privileged to meet literally hundreds of people whose lives have been changed for the better by this estraordinary woman. So, will you indulge me?
Four Lessons
One of the most moving moments this week was hearing the following. It's a remembrance of Barbara Larche that was presented during the funeral service by my neice, Brooke Prins.
Brooke, I'm sorry. I had to share it (edited ever so slightly, as it is, for this printed format). Forgive me. The fact is there are several friends who weren't able to attend and really should to read this. It's a beautiful, eloquent rememberance of an amazing person.
First off, thank you so much for the overwhelming love and support you have all shown my family yesterday, today, and this past week and month. We are truly blessed to have such wonderful friends and family, and it's a testament to how many people were touched by my Grandma.

We're here today to celebrate my grandma Barb. Chances are if you knew my grandma, you also had some fun with my grandma. Because she was a fun-loving lady. But more than that, she was a special, special lady. She had the love and best friendship of her devoted husband "Socko." She raised three incredible – and incredibly different – sons. She was a very cool grandma. And she was an entertaining and fun friend to many, many people.

It's difficult to sum up a life such as my grandma's. She lived so well and had so many stories, it was hard to pare it down to a few minutes. So what I've decided is to share with you some of the things I learned from my grandma. These are life lessons that she taught by example. Her life was a lesson in living, and she did it really well.

The first thing my grandma taught me was to HAVE A GREAT STYLE.

In all my life, my grandma presented herself with class and dignity. She was well-groomed. As a matter of fact, the first order of business upon being released from the hospital a few weeks ago was to go see her hairdresser, Brenda, to have her hair done.

Never mind that she was exhausted and sick, she would feel better if she was beautiful. Everything Grandma chose was stylish, and she made sure to always be "put-together" … although I do question the red glasses she wore when I was little, even if it was the 80's.

Besides that, she shared her own great taste with her family. How many teenage girls are excited to see what their grandma picked out for them for Christmas each year? Grandma and Grandpa always nailed it, finding something cool and appropriate for all us grandkids.

The second thing Grandma taught me was to BE A GREAT FRIEND.

It's no secret that my grandparents were fond of their routine, but a big part of that routine each week was for Grandma to spend time with her girlfriends on Wednesday nights. Marlene, Joanie, Lillan, and Grandma spent many a night enjoying time at The Stonehouse for some girl bonding.

She knew how important it is to make time for your friends.

She also shared some lifelong friendships. She met her closest friend, Mitzy, in grade school and she carried that friendship throughout her life. Then there are the friends that Grandpa and Grandma made wherever they went. Together, they were the life of every party and a joy to be around. People loved spending time with both of them, and they were well-known at the Elks Club, the Country Club, The Stonehouse, and I'm sure there are a few people in Vegas that will miss Grandma as well.

Wherever she went, Grandma left a smile and a laugh.

The third thing Grandma taught me is to SHARE A GREAT LOVE. She and my grandpa shared a lifelong love.

She would tell us how they met in kindergarten, and she couldn't help but fall in love with the freckled faced, red haired "Socko." As teenagers, Grandpa would watch out his window for his sweetheart to walk by so he could walk her to school. Apparently neither one of their parents were thrilled by this, but there really was no separating the two of them.

Aunt Pat has said that you never knew a Socko or a Barb, it was always Socko and Barb. If you want an example of how to be happily married, theirs is one of the best. No matter what they did, they did it together. They took care of each other, they supported each other, and they shared everything with one another. But most importantly, they had fun together.

As a couple, my grandparents were a force to be reckoned with.

The fourth thing Grandma taught me is to LIVE A GREAT LIFE. We shared so many fun times as a family.

Our Thanksgivings each year include singing songs from the good ol' days and playing games. I can tell you, I don't know what we girls are going to do without Grandma to answer the sports questions in Trivial Pursuit!

Vegas was another highlight of Grandma's life. She loved to gamble, and I can't believe how LUCKY she was. On their 51st wedding anniversary, we went as a family to Las Vegas.

While the rest of us were sitting around the pool soaking up the sun, Grandma was inside winning the jackpot. She and Grandpa came out to find us, and she announced it as nonchalantly as if she had simply won free a breakfast.

That's not to say that Grandma took her good luck for granted, but I do think she considered her other good fortunes – like family, friends, and Socko – to be infinitely more important than her luck at the slot machines.

My grandparents had a couple tricks up their sleeves for living a great life. First of all, my grandma never complained about a thing.

If she was feeling poorly these past few years, you only knew it because she might leave a little earlier than usual. Maybe it was all her years as a nurse that taught her to keep her own complaints to herself. Whatever it was, she was one of the strongest women I know. And she was one of the youngest grandmas I know.

That's because she and Socko lived as though they would never grow old.

You're only as old as you feel, and my grandparents felt like teenagers their whole lives.

Grandma Barb lived her whole life to its fullest. She had fun, whatever she did. She never slowed down, she refused to grow old, and she lived up to the very end.

Even after surgery a few weeks ago, she woke up asking for a Manhattan! She had a terrific sense of humor.

On her last day, my grandpa came to see her just as she was finishing her dinner. My dad was there, and he offered to help with her dessert before he left, but grandpa said he'd take care of it. Grandma looked at my dad to say, "He wants my cake."

The world is a little less colorful without Grandma in it, and we're going to miss her terribly. It doesn't feel real yet, I still feel like she's with us when we're all together.

But in a lot of ways, she always will be with us. After all, she showed us all how to have a great style, be a great friend, share a great love, and live a great life. We couldn't have had a better example to follow, and I'm happy for all the time I was blessed to have with my Grandma. We'll all be with her again someday, but in the meantime we can cherish the great memories and follow her great example.

I love you Grandma Barb.
Me too Brooke.