My hometown's Carnegie Public Library saved my young life. Mid-century Escanaba, Michigan was pretty — yes — but also remote, and inhospitable to a shy kid like me. I wasn't into hunting, fishing or sports. During my grade school years, I probably spent way too many recess periods inside, alone with a book. I couldn't help it.
I wanted to learn stuff.
As soon as I'd exhausted the Children's section of the library (and, I suspect, exhausted the children's librarian, Miss Jensen), I was kicked upstairs to the adult books and media. I spent most of my time in the non-fiction section, settling into Dewey Decimal System's home for conjuring and its history: 791.
I became one of those boys. I fell in love with doing magic tricks for friends and classmates, and soon graduated to performing shows for strangers. My first was for the Saturday morning story hour, back in the basement of — Where else? — the Carnegie Library. Thank you Miss Jensen!
I was reminded of all this when I saw this post from Chicago's preeminent reference library:
I recall crouching in the stacks of Carnegie Library, reading excepts of Reginald Scot's Discoverie of Witchcraft. It was written to discourage the persecution of suspected witches by revealing how easy it was to simulate their miracles. It was far from a how-to, yet it earned the title of The World's First Magic Book.
Here's one example from its pages. This shows how you could display an apparently beheaded man and hold a conversation with his head while it rests nearby on a platter: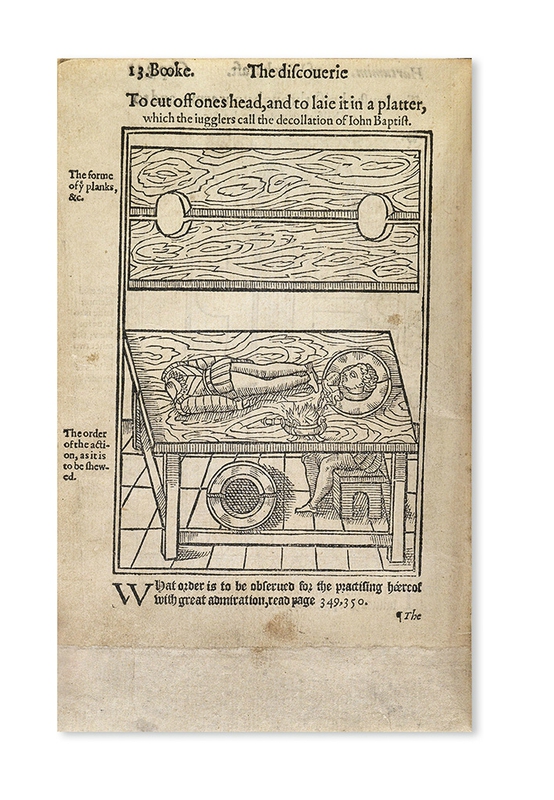 Those who know me well are aware I took to magic in a big way. It taught me some wonderful lessons: Confidence in front of strangers, how to tell a story, and even how to invent my own illusions.
I love the fact that I live within a few miles of a library housing one of the remaining copies of this treasured book. And I am especially grateful that everything else I learned in my "discoveries" in libraries has made me the person I am today.